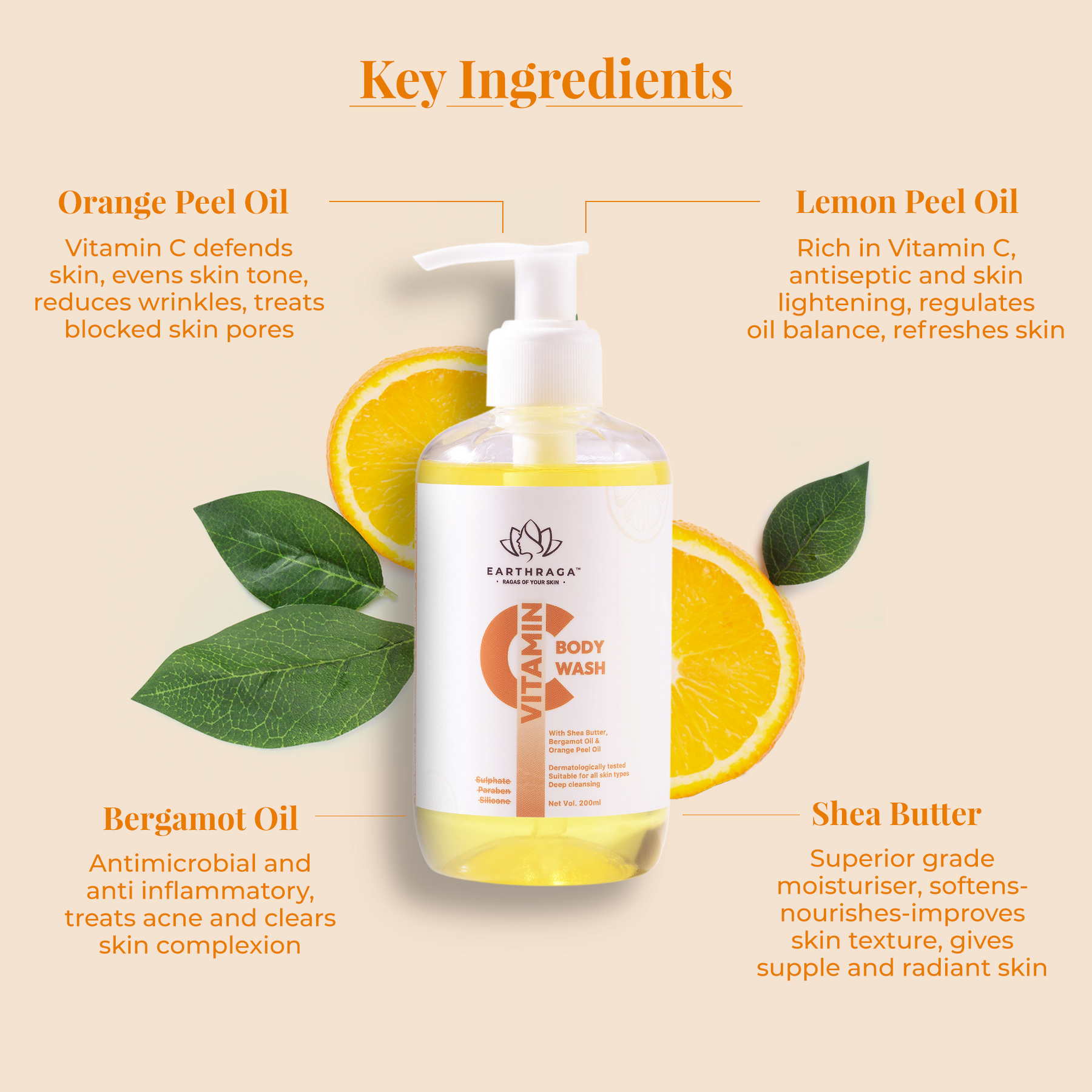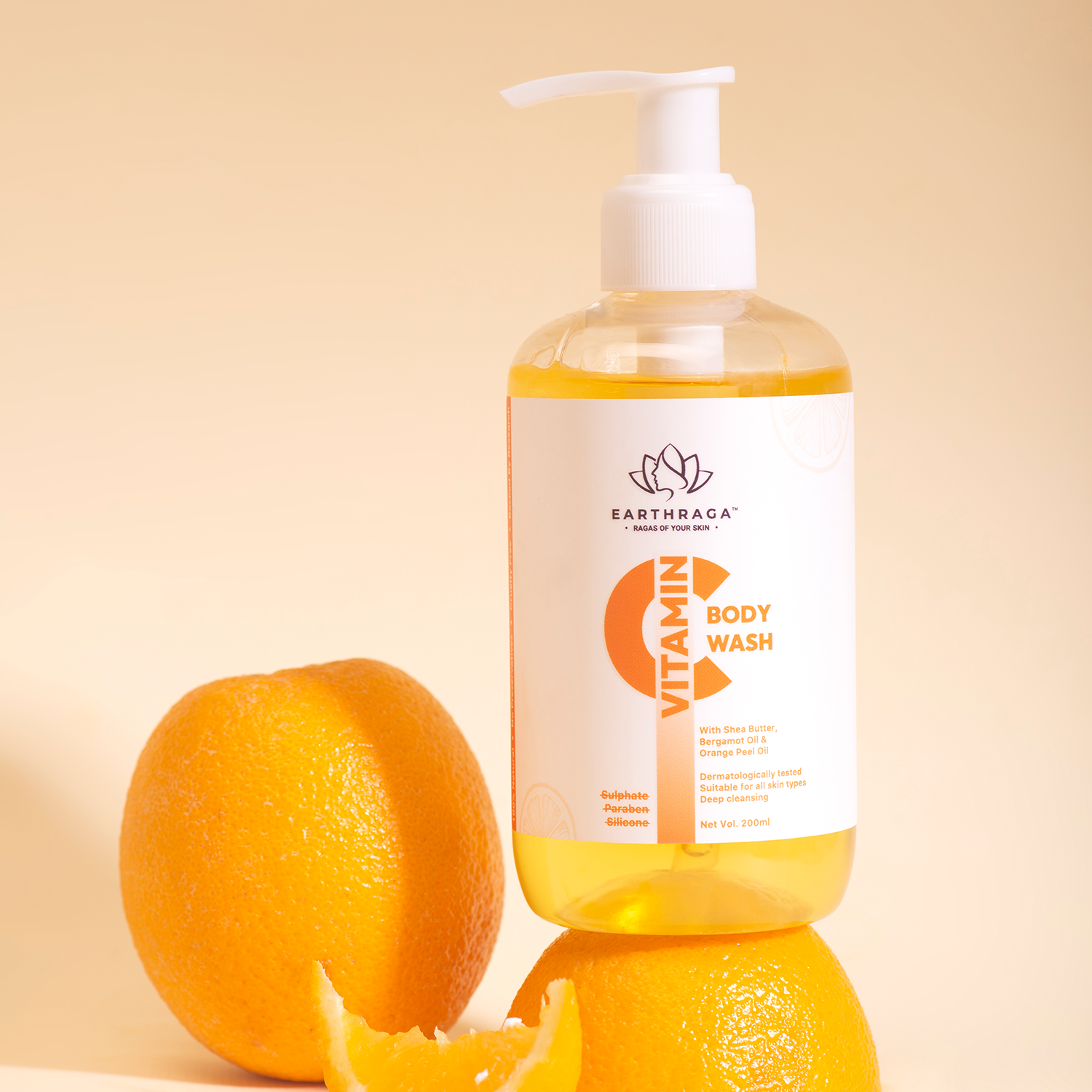 Vitamin C Body Wash | Clears Clogged Pores Effectively | Makes Skin Tight & Firm | Promotes Even Skin-Tone | 200ml
Description
Experience the invigorating Earthraga Vitamin C Body Wash, designed to thoroughly cleanse your body of dirt, grime, and excess oil. This refreshing body wash also contains antimicrobial properties, effectively eliminating microbes from your skin. Enriched with natural ingredients such as Bergamot oil, Lemon Peel Oil, Orange Peel Oil and more, this body wash delivers a complete and revitalizing bathing experience.
Product Details
Key Ingredients
Orange Peel Oil: – Packed with Vitamin C, shields the skin against harmful free radicals, while promoting even skin tone and reducing wrinkles and fine lines. Its deep-cleansing action treats blocked pores effectively.
Lemon Peel Oil: – Abundant in Vitamin C, this oil boasts antiseptic, antioxidant, and lightening properties. It regulates oil production and serves as a deep cleanser, providing a refreshing and revitalizing effect.
Bergamot Oil: – Embrace the antimicrobial and anti-inflammatory properties of Bergamot Oil, which has also been utilized in soothing aromatherapies. It is effective in treating acne, pimples, scars, and wrinkles, giving you a smoother and clearer complexion.
Shea Butter: - Experience the ultimate moisturization with Shea Butter. It replenishes and hydrates the skin, while also softening and improving its texture, leaving it feeling nourished and supple.
Manufacturer details- A.G. Organica Pvt Ltd, C-11 Block C, Sector 85, Noida Uttar Pradesh 201305 Licence No. UP16320000028
How to Use
Wet your body with water.
Take the desired amount of body wash and apply it onto a loofah or directly onto your wet skin.
Gently massage the body wash into your skin, working it up into a rich lather. Enjoy the refreshing sensation.
Rinse off thoroughly with water, ensuring all the lather is washed away.
After rinsing, pat your body dry with a clean towel.
Enjoy the benefits of the body wash as it cleanses deeply and leaves your skin feeling refreshed and revitalized. Make it a regular part of your bathing routine for the best results.
Classic Liril Moment...
Unmatched Citrus freshness...., all day long Wow. Bathing experience is Classic Liril Moment, Gen X will relate to it....
Yes, it is good to use vitamin C body wash daily. Use regularly for deep cleaning, regeneration, and refreshment. Include it in your bathing routine every day for the best results.

Yes, vitamin C body wash will help even your skin tone. It has orange peel oil, which is rich in vitamin C and protects the skin from damaging free radicals. It also helps in evening out skin tone and reduces fine lines and wrinkles. The deep cleansing action of the body wash effectively clears out the blocked pores.

Yes, vitamin C brightening body wash suits all skin types, including dry skin. The presence of Shea Butter in the Vitamin C Body Wash replenishes and hydrates your skin leaving it soft, supple and nourished.

The natural and active ingredients present in the vitamin C body wash makes it suitable to use on your face. The anti-inflammatory and antimicrobial properties of Bergamot Oil, deeply cleanses your skin while giving a smoother and clear complexion. The presence of Lemon Peel Oil and Orange Peel Oil deeply cleanses your skin while healing early signs of ageing. Shea butter in the body lotion hydrates and replenishes your skin making it soft and supple.

You can get this best vitamin C body wash online from the website of Earthraga. Derma-tested, 100% organic, and free from hazardous chemicals our body lotion is suitable for all skin types.