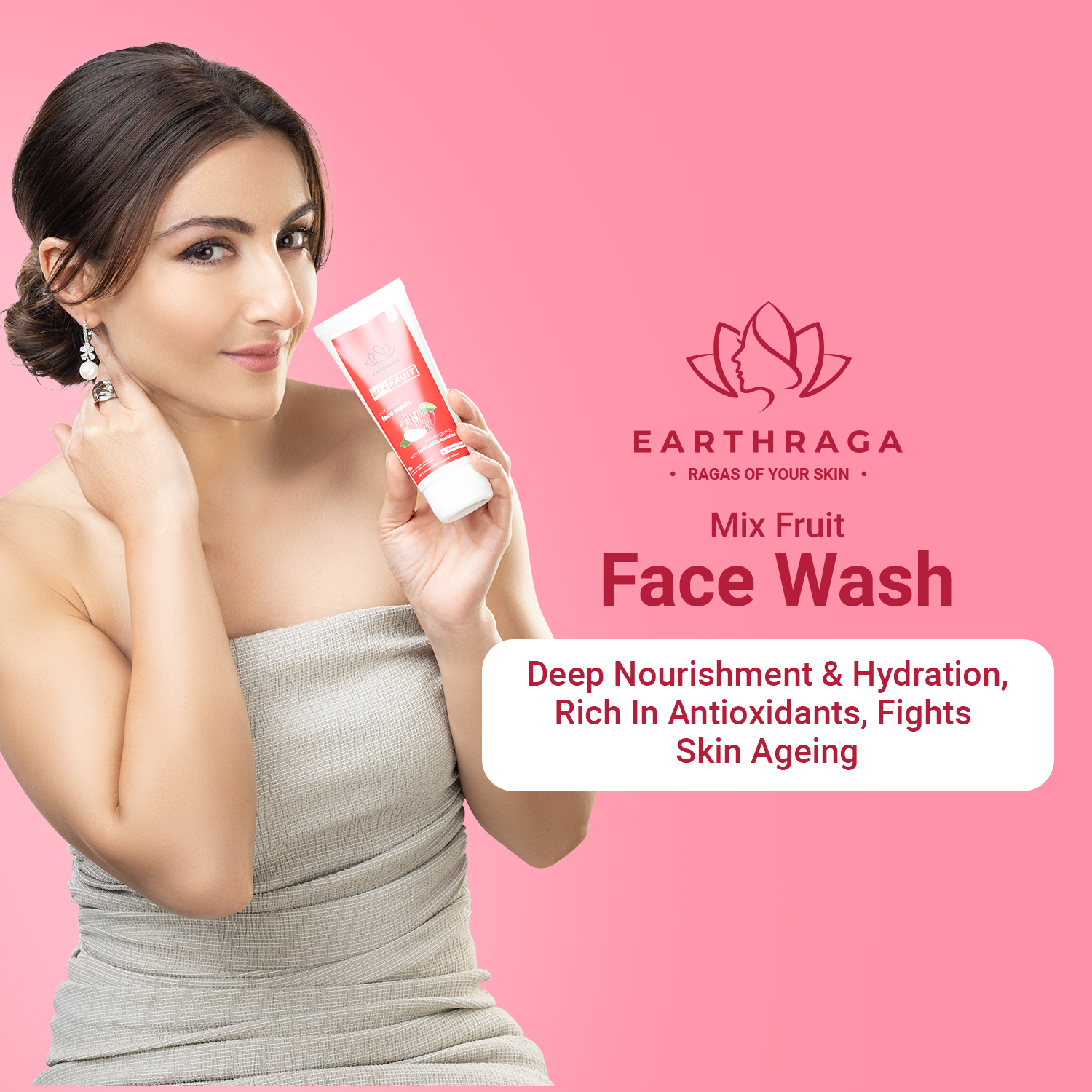 Mix Fruit Face Wash | Deep Nourishment & Hydration | Rich In Antioxidants | Fights Skin Ageing | 100ml
Description
Earthraga Mix Fruit Face Wash is 100% soap free and dissolves makeup and impurities with ease. Its natural ingredients like Apple Extract, Citric Acid and Allantoin remove dead cells, lighten the complexion and help you get that soft and supple skin. The face wash also provides intense hydration, resulting in fresh, clean and healthy skin. 
Refreshes and Rejuvenates

Cleanses pores deeply

Gives clearer, soft and supple skin

Organic formulation

No Artificial Fragrance

No Synthetics       

Best for All Skin Types
Product Details
Key Ingredients
Apple Extract – Rich in anti-oxidants, fights skin ageing, is great for a smooth, supple and radiant skin
Citric Acid – Has exfoliating properties, helps unclog skin pores and evens skin tone
Allantoin – Moisturises your skin and prevents dry and rough skin. It also improves skin elasticity and radiance, helping you in achieving youthful appearance
Manufacturer details- A.G. Organica Pvt Ltd, C-11 Block C, Sector 85, Noida Uttar Pradesh 201305 Licence No. UP16320000028
Directions for Use:
Take a small amount and gently massage onto your wet skin and neck to form lather and then rinse off. For best results, use the product at least twice a day.
good face wash
this is very good and smells like apple. face got clean and bright after few uses. price affordable as compared to quality
Yes. Earthraga's mix fruit face wash contains an excellent blend of ingredients like Apple extract, Citric acid, and Allantoin that can resonate with your skincare needs. Having said that, it is always advisable to do a patch test before use to look for signs of skin itching and irritation.

Yes, our fruit facial cleanser is endowed with the best of nutrients and antioxidants to deeply nourish and hydrate your skin.

Yes. Our apple fruit face wash is cruelty-free and made from 100% natural ingredients. Our products are dermatologically tested and made without the use of any harmful chemicals.

Yes. You can use our fruit face wash twice a day as part of your daytime and nighttime skincare routine.

Earthraga's mix fruit face wash is best for your skin. However, don't forget to do a patch test before final use.