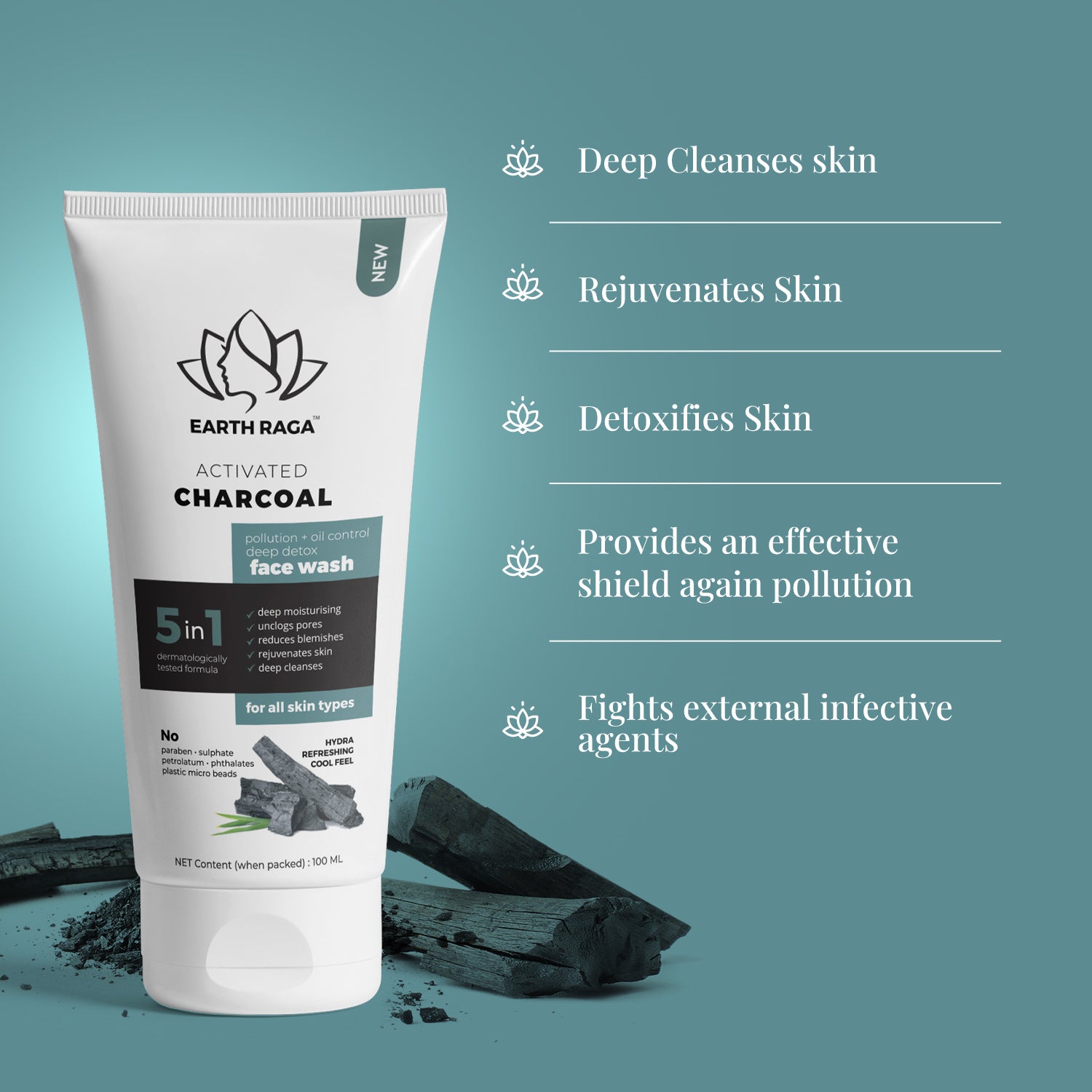 Activated Charcoal Facewash | Removes Impurities & Dead Skin Cells | Controls Excess Oil | 100ml
Description
Earthraga Activated Charcoal Facewash is formulated with Activated Charcoal, which deeply cleanses your skin pores, while gently exfoliating your skin. It pulls out excess oil, toxins, dirt, dead skin cells, makeup and other impurities effectively without irritating or drying out the skin. The facewash also contains Argan Oil and Radish Root Extract, which further protects your skin from any fungal/bacterial activities and inflammation while promoting hydration. 

Detoxifies & cleanses deeply

Removes dirt & dead cells

Controls excess oil

Fights acne and acne scars

Organic formulation

No Artificial Fragrance

No Synthetics       

Best for oily, acne-prone skin
Product Details
Key Ingredients
Activated Charcoal – Removes impurities, dead skin cells and excess oil from deep within your pores, leaving you with cleaner, brighter and softer skin.
Argan Oil –Works effectively in treating acne because of its anti-inflammatory and anti-fungicidal properties. It also protects skin from sun damage and acts as a great moisturiser.
Radish Root Extract – Reduces skin inflammation and keep's your skin hydrated. It also fights breakouts and signs of premature ageing.
Manufacturer details- A.G. Organica Pvt Ltd, C-11 Block C, Sector 85, Noida Uttar Pradesh 201305 Licence No. UP16320000028
Directions for Use:
Take a small amount and gently massage onto your wet skin and neck to form lather and then rinse off. For best results, use the product at least twice a day. Manufacturer details- A.G. Organica Pvt Ltd, C-11 Block C, Sector 85, Noida Uttar Pradesh 201305 Licence No. UP16320000028
Best Pollution Fighter
Ideal for big city dwellers like us, effectively cleanses and washes away pollutants and impurities. Being an avid biker, I needed exactly this. Feeling refreshed now...
Awesome
Really awesome, cleans the face instantly
Yes, we ship all over the world. Shipping costs will apply, and will be added at checkout. We run discounts and promotions all year, so stay tuned for exclusive deals.
The activated charcoal face wash creates an effective shield against pollution, fights external ineffective agents and helps in detoxifying and rejuvenating the skin.
For better results, it is advised to use Earthraga's best charcoal face wash at least twice a day.

Yes, teenagers can use this organic charcoal face wash. It is designed to suit all skin types.

The presence of radish root extracts, argan oil and activated charcoal in black charcoal face wash keeps your skin hydrated thus preventing it from getting dry and dull.