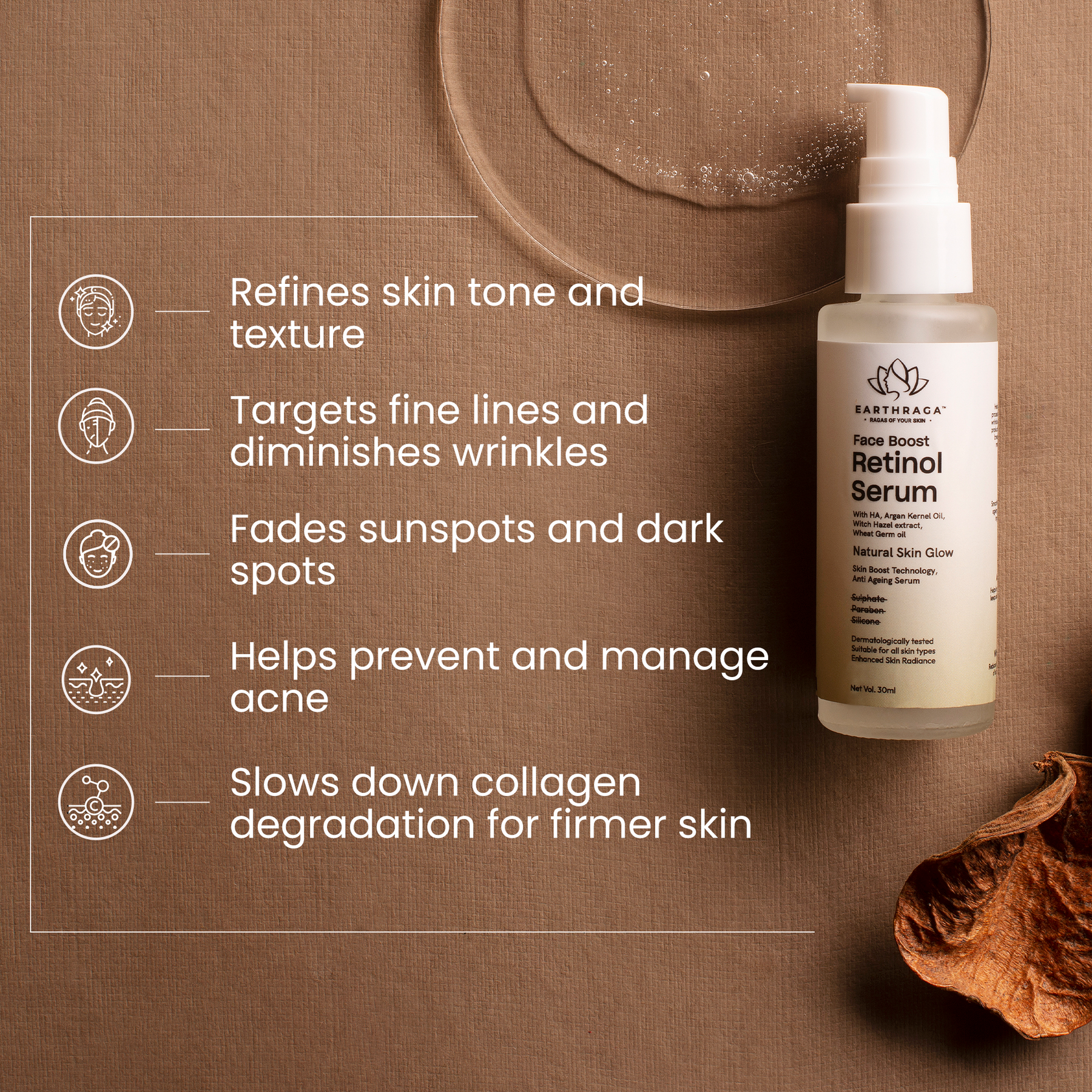 Retinol Serum | Moistens Skin | Reduces Wrinkles & Fine Lines | Treats Acne | Loaded With Antioxidants | 30ml
Description
Introducing Face Boost Retinol Serum - your key to confident, radiant skin, Crafted with a powerful blend of skin boosting ingredients sourced from nature, our serum delivers exceptional results. Reveal a natural, youthful glow as it effectively combats signs of aging. Experience smoother, even-toned and healthier skin with regular use. Embrace your best skin ever and face the world with renewed confidence!
Product Details
Key Ingredients
Retinol Reduces wrinkles, pore size of large pores, and acne scarring. Neutralizes free radicals and treats acne.
Argan Kernel Oil: – Antioxidant-rich, maintains elasticity, fights acne, and scars.
Hyaluronic Acid: – Reduces fine lines, increases moisture, and combats signs of aging.
Witch Hazel Extrac: - Soothes irritation, protects from damage.
Wheatgerm Oil: - Anti-aging, soothes skin, fights acne, and provides antioxidant protection.
Manufacturer details- A.G. Organica Pvt Ltd, C-11 Block C, Sector 85, Noida Uttar Pradesh 201305 Licence No. UP16320000028
How to Use
Take the required amount on your fingertips
Apply the serum on your face and neck
Gently massage it in a circular motion, moving upwards until the serum is fully absorbed into the skin
It is recommended to use the serum during the evening or night and following up with a moisturizer
Follow up with a moisturizer after applying the serum
If applying during the daytime, ensure to apply sunscreen before exposing your skin to sunlight. For the best results, complement your skincare routine with Earthraga's range of moisturizer and sunscreen after applying the serum
For the best results, consider using other products from the Earthraga range, such as their Sunscreen and Moisturizer, after applying the serum
Remember, individual skin types may react differently, so it's essential to do a patch test before incorporating any new skincare product into your routine. If you experience any adverse reactions, discontinue use and consult a dermatologist
Excellent Product, delivery delayed
Felt safe using this, completely natural, 3 cheers to Earthraga. Courier though delayed delivery on fake pretexts, but their customercare promptly ensured delivery once I raised the issue
There are so many benefits of having to use the best retinol serum for face. It helps to increase the production of skin cells, unclog your pores, exfoliate your skin and increase the production of collagen.

It is best to use retinol serum daily at night to avoid sunlight. However, be sure to load up on sunscreen when you use it during the day.
It is recommended to use a retinol face serum during the evening or night.
Retinol serum for skin can brighten the complexion of your face.

Retinol based serum can help prevent wrinkles and smooth out existing wrinkles and fine lines.