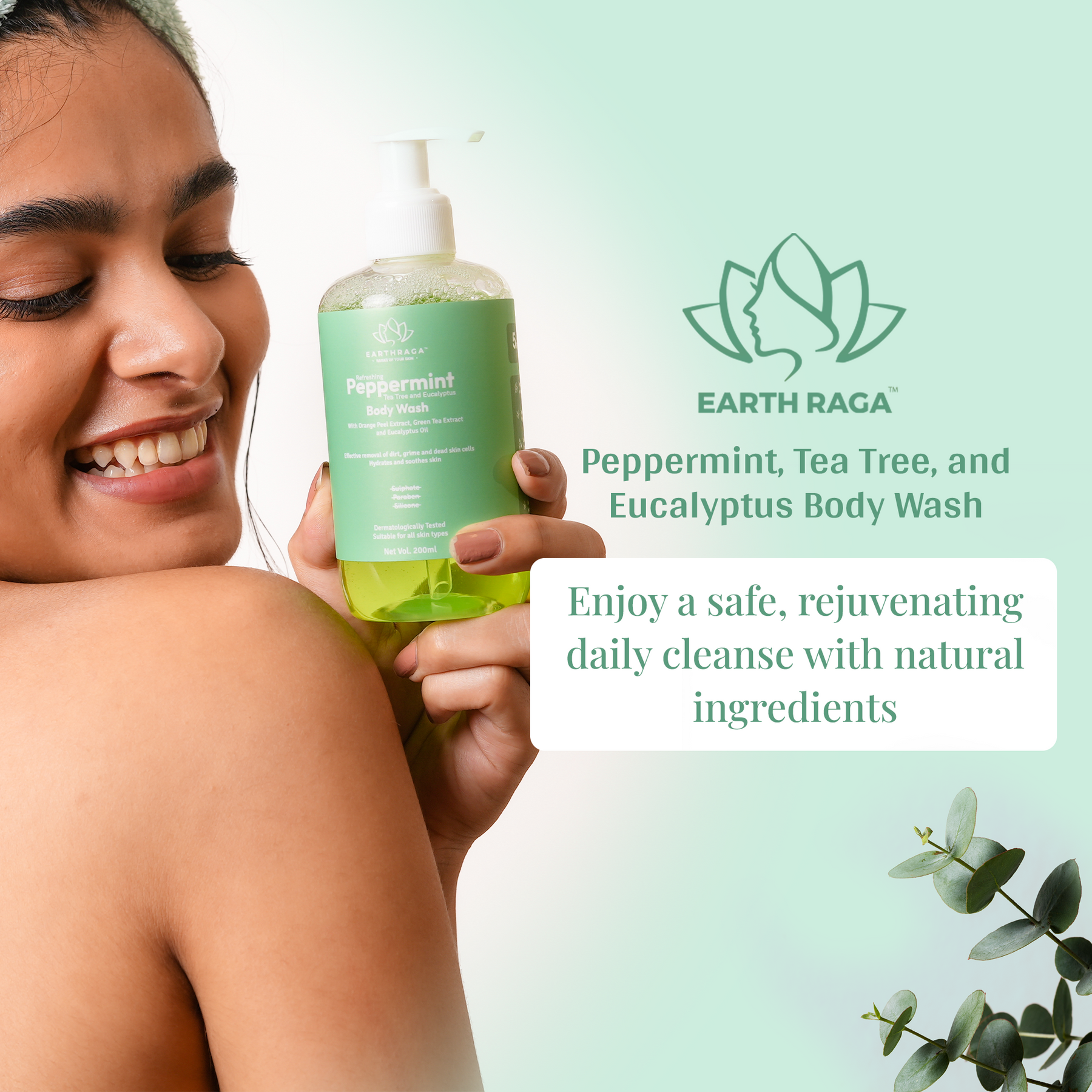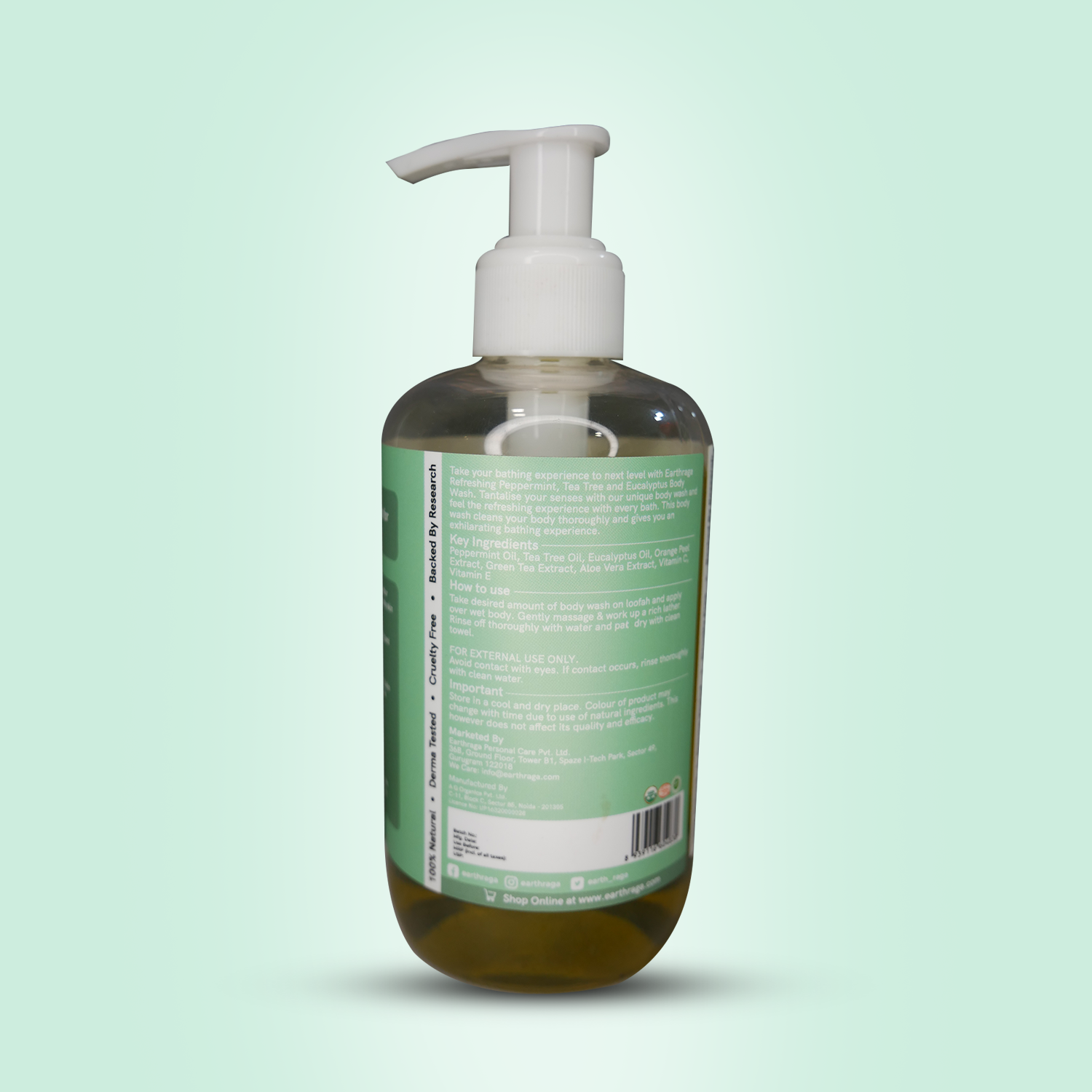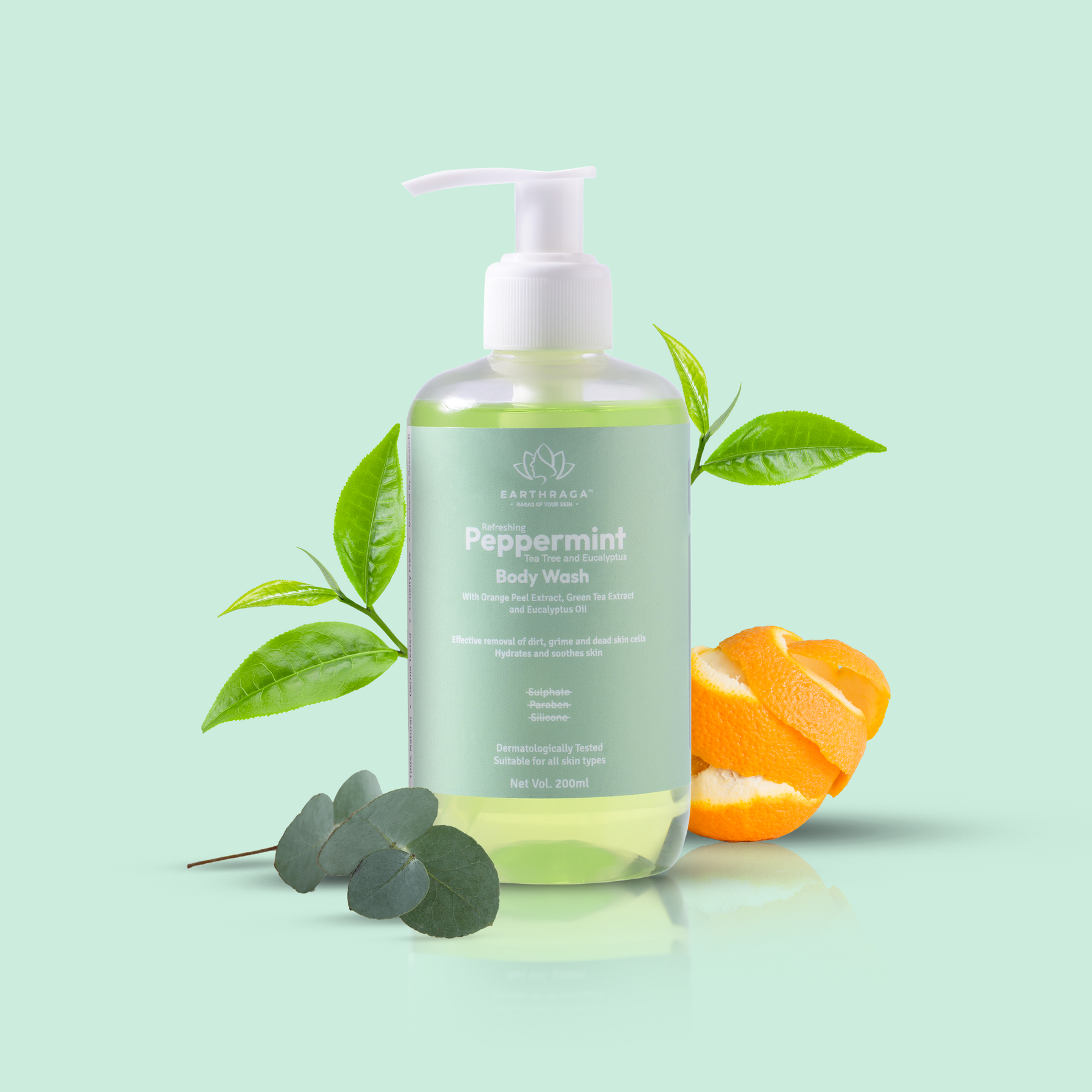 Refreshing Peppermint, Tea Tree and Eucalyptus Body Wash | Cleanses Blocked Pores | Promotes Skin Lightening | Antibacterial & Antiseptic | 200 ml
Description
Earthraga Refreshing Peppermint, Tea Tree, and Eucalyptus Body Wash elevates your bathing routine to the next level. Enjoy a rejuvenating and complete bath experience with the perfect combination of cleansing and refreshing sensations for your body. Formulated with natural ingredients, this body wash is safe for daily use.
Product Details
Key Ingredients
Peppermint Oil – Cleanses the skin and possesses antibacterial and antiseptic properties, providing a refreshing bath experience while reducing body odor.
Tea Tree Oil: – Combats acne and pimples, acts as a deodorizer, and soothes dry skin by relieving itching and irritation.
Eucalyptus Oil: – Moisturizes the skin, promotes skin lightening, and aids in healing. Its cooling and soothing properties provide a calming effect on the skin.
Orange Peel Extract: - Rich in Vitamin C, it supports collagen and elastin development for healthier skin. Additionally, it cleanses pores, reduces blackheads, and helps alleviate acne, scars, and pimples.
Green Tea Extract: - Effective in fighting acne, it promotes youthful-looking skin, regulates excess sebum, soothes the skin, and offers protection against sun damage.
Manufacturer details- A.G. Organica Pvt Ltd, C-11 Block C, Sector 85, Noida Uttar Pradesh 201305 Licence No. UP16320000028
How to Use
Take the desired amount of body wash on a loofah.
Apply the body wash over your wet body.
Gently massage the product onto your skin to work up a rich lather.
Rinse off thoroughly with water, ensuring all the lather is washed away.
After rinsing, pat your body dry with a clean towel.
Feel Like Fresh
Minty refreshing invigoration in a cleansing experience that revitalizes both body and mind.
The super Refreshing Peppermint, Tea Tree and Eucalyptus Body Wash can be used on a daily basis for effective results. Made with 100% natural ingredients, the body wash helps in deeply cleansing and revitalising your skin.

The presence of Eucalyptus and tea tree oil in Earthraga's body wash makes it suitable for sensitive skin. These ingredients help in cooling and soothing the inflamed and dry skin prone to redness and irritation while promoting skin lightening and healing.

Yes, using eucalyptus and peppermint body wash helps lighten the skin tone. It has eucalyptus oil, which helps with healing, skin lightening, and hydration. Its relaxing and cooling qualities provide the skin with a tranquil feeling.

Yes, you can also use tea tree and eucalyptus body wash on your face. It contains tea tree oil, which relieves itching and irritation on dry skin and fights acne and pimples. It also has vitamin C-rich orange peel extract, which promotes collagen and elastin growth for better-looking skin. It also helps with pimples, acne, and scars by cleaning pores and minimizing blackheads.

Yes, peppermint body wash by Earthraga is totally free of harmful chemicals. It is 100% natural and free from harmful sulphates, silicones, parabens, & more.