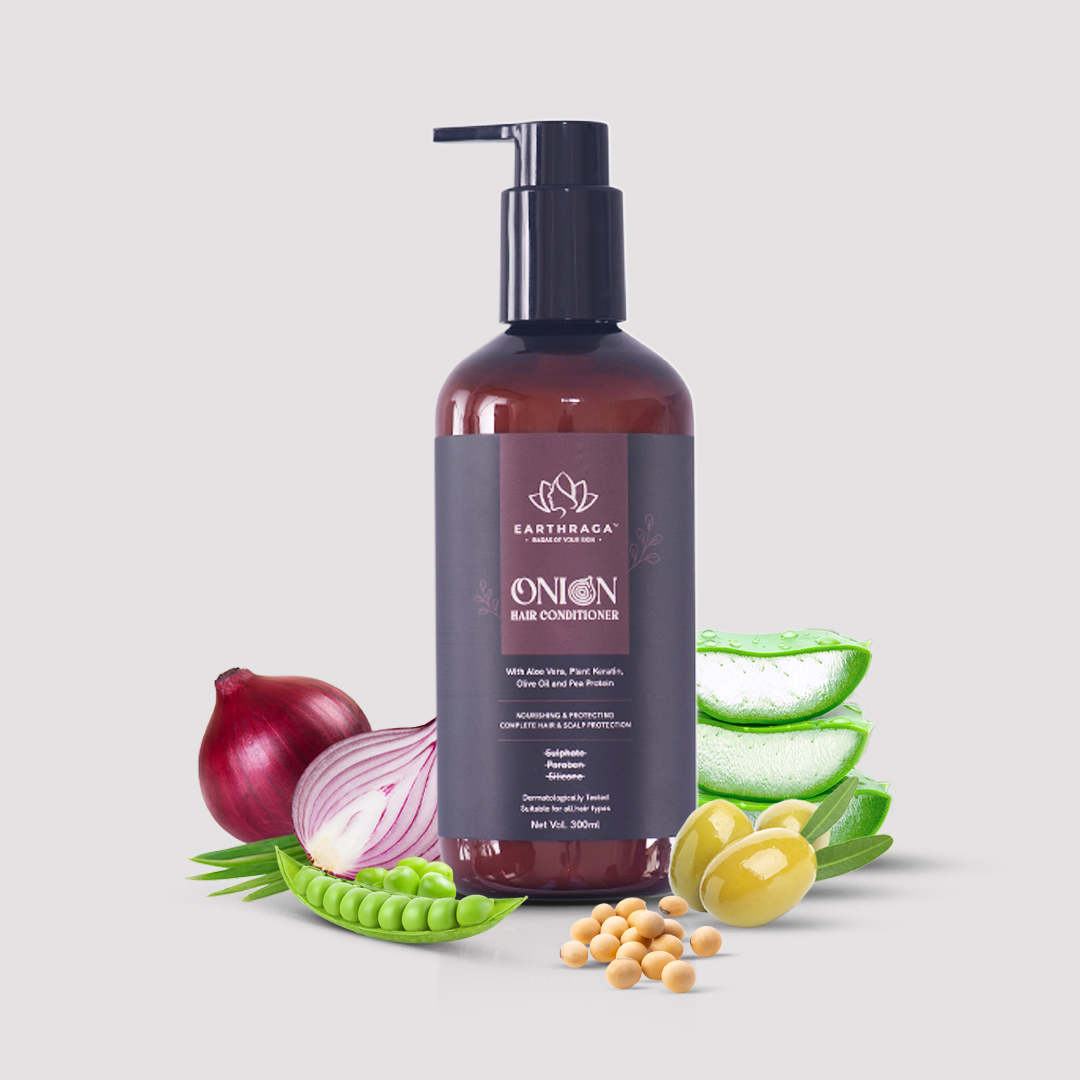 Onion Hair Conditioner | Boosts Hair Growth | Treats Scalp Infections | Retains Moisture In Hair | 300ml
Description
Introducing Earthraga Onion Hair Conditioner, a high-quality hair conditioner that fosters robust hair growth while reducing hair fall. Its entirely natural ingredients provide excellent protection for each hair strand and the scalp. The specially crafted formulation deeply moisturizes and shields weak and brittle hair, promoting healthier and more resilient locks.
Product Details
The essential components of our product include:
Onion Extract: - Boosts scalp stimulation, enhances blood circulation, and encourages hair growth.
Aloe Vera: – Addresses itchy scalp issues and reduces skin flaking.
Olive Oil: – Retains hair moisture, fosters strength, soothes the scalp, fortifies hair follicles, and promotes hair growth.
Plant Keratin: - Balances hair moisture levels, elevates hair strength and flexibility, safeguards against breakage, and delivers a smooth and silky texture.
Pea Protein: - Repairs cuticle gaps in hair, forms a protective film, and adds luster and volume to your precious locks.
Manufacturer details- A.G. Organica Pvt Ltd, C-11 Block C, Sector 85, Noida Uttar Pradesh 201305 Licence No. UP16320000028
Directions for Use:
After shampooing your hair, make sure your hair is wet. Take a generous amount of Earthraga Onion Conditioner and apply it thoroughly to your hair and scalp. Allow the conditioner to sit for two minutes, giving it time to work its magic. After two minutes, rinse off the conditioner completely with water. Once you've washed off the conditioner, gently pat dry your hair using a towel. Following these simple steps will ensure that you get the maximum benefits from our Onion Hair Conditioner, leaving your hair nourished, protected, and looking fabulous.
Was skeptical on onion related conditioner, but after first use I noticed it's effect. The experience is beyond words...maybe the best conditioner I have ever used. On top of it, the confidence of using natural product gives me more joy.
When applying onion hair conditioner, focus the product on your hair and not on your scalp. Conditioner is meant to soften and enhance the texture of your hair and not to cleanse your scalp.

By using the onion conditioner for hair fall, you will help your hair retain more moisture to prevent dryness, treat any infection you may have on your scalp, and boost overall hair growth.

The best conditioner for hair fall is the Onion conditioner which has a lot of benefits from treating hair conditions to boosting the health of your hair as well as growth.

To deeply cleanse your scalp, we recommend our Onion shampoo because conditioners are meant for your hair. However, it can also be of help because onion has anti-inflammatory properties that can soothe itchiness and irritation in the scalp.

It is best to avoid using the onion conditioner for hair loss as frequently as daily because it can lead to frizz and dryness. When used like once to twice a week, you can reap all the benefits of onion conditioner.