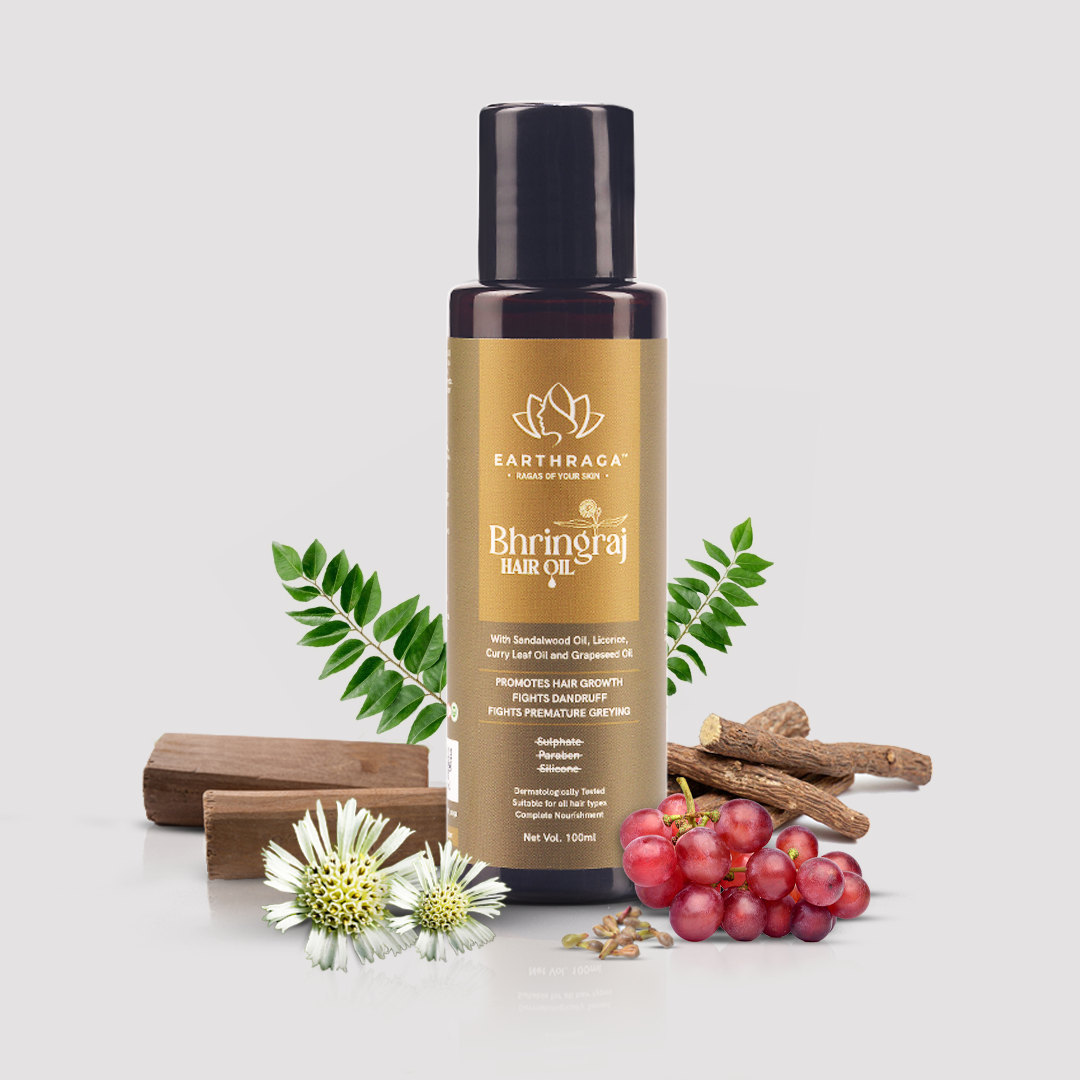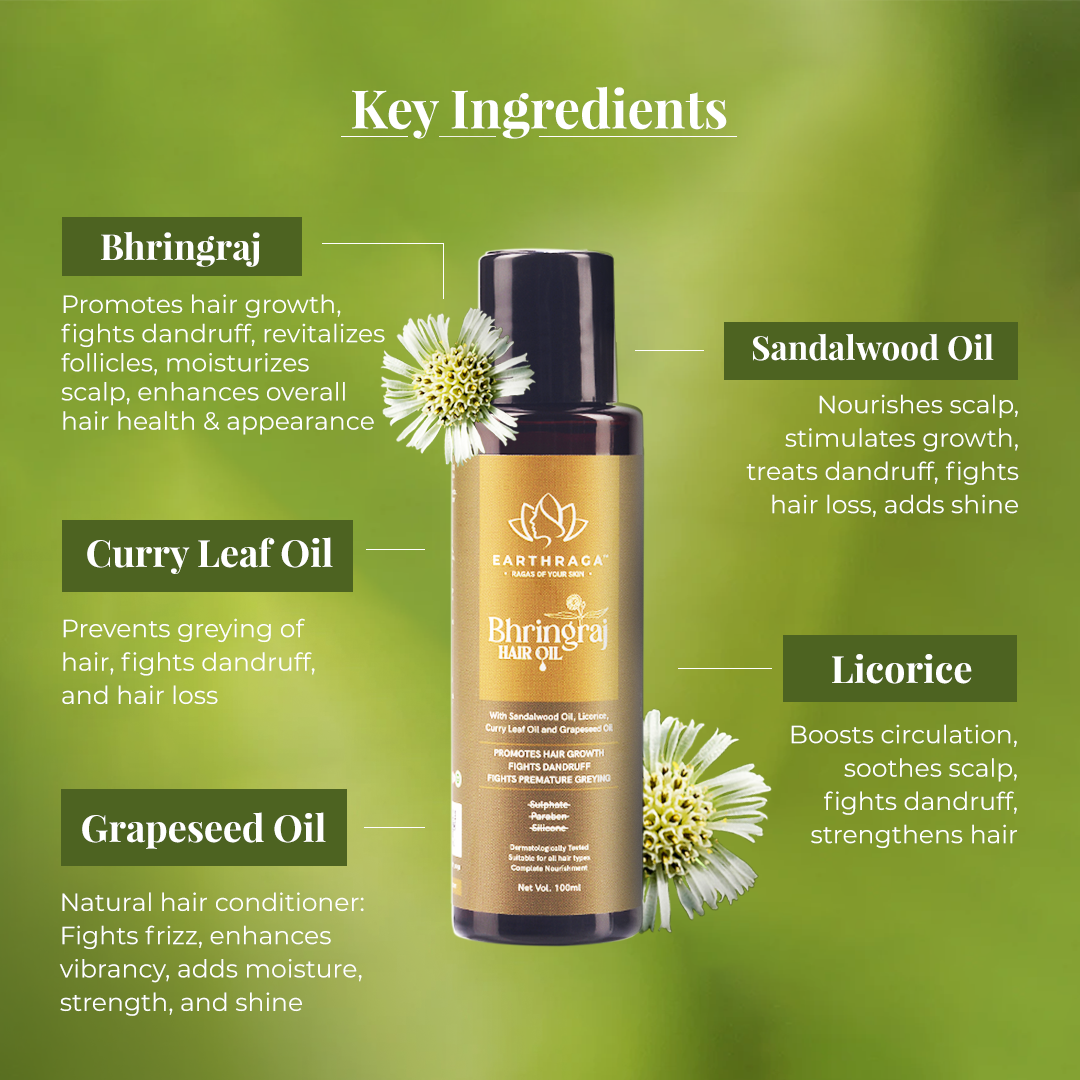 Bhringraj Hair Oil | Reactivates Hair Follicles | Enhances Hair Volume | Boosts Blood Circulation In Scalp | 100ml
Description
Earthraga introduces the Vedic Bhringraj Hair Oil, blended with authentic herbs, renowned since ancient times for promoting long, strong, and disease-free hair. This oil, mentioned in Ayurvedic texts, is highly esteemed for its exceptional hair care benefits, providing complete holistic nourishment for your hair.
Product Details
Discover the power of our key ingredients:
Bhringraj: The primary ingredient responsible for hair growth, fighting dandruff, reactivating hair follicles, and moisturizing hair and scalp, promoting overall hair health and appearance.
Curry Leaves Oil Rich in proteins and beta-carotene, this component boasts antimicrobial properties. It not only enhances hair shine but also aids in the regeneration of fallen hair, improves scalp health, and prevents premature greying of hair.
Sandalwood Oil: – Nourishes the scalp, stimulates hair growth, treats dandruff, addresses dry scalp and hair loss, and imparts shine to hair.
Licorice: – Boosts blood circulation to the scalp, soothes the scalp, alleviates irritation, fights dandruff, and strengthens the hair shaft.
Amla Oil: –An active ingredient in hair oils since Vedic ages, Amla is renowned for strengthening the hair shaft and promoting hair growth. It imparts nourishment to each hair strand and root, making it a preferred remedy for various hair-related issues like Alopecia and Male Pattern Baldness. .
Grapeseed Oil: – A natural hair conditioner that combats frizz, enhances hair vibrancy, and provides moisture, strength, and shine to the hair.
Manufacturer details- A.G. Organica Pvt Ltd, C-11 Block C, Sector 85, Noida Uttar Pradesh 201305 Licence No. UP16320000028
Directions for use:
Take a sufficient amount of bhringraj oil and apply it evenly to your hair and scalp.
Gently massage the oil into your scalp using your fingertips. This helps in improving blood circulation and ensures that the oil is evenly distributed.
For maximum benefits, it is recommended to apply the oil at night before going to sleep. Leaving the oil overnight allows it to deeply nourish your hair and scalp.
Wrap your hair in a soft towel or use a hair cap to prevent the oil from staining your pillowcase.
In the morning, wash your hair with a mild and natural earthraga shampoo.
Great oil for hair care
A wonderful product..Ayurvedic oil with very good effects, the oil spreads properly and does not stink. It is absorbed well by my scalp and hairs. It has that feel good factor and am already in love with it.
Best oil
Nice oil.
I have dense hair now
Absolutely! Earthraga's Bhringraj Hair Oil is enriched with herbs like bhringraj, curry leaves oil, amla oil, and grapeseed oil - all of which nourish the scalp and strengthen hair strands.

Applying Bhringraj tel evenly to your hair and scalp offers optimal outcomes. Gently massage it with your fingertips to improve blood circulation. To maximise the benefits, leave the oil on overnight.

Yes, you can use the original Bhringraj oil daily. Regular application ensures that your hair and scalp receive the much-needed nourishment and protection.

Earthraga's pure Bhringraj oil is suitable for all hair types. Whether you have oily, dry, curly, or straight hair, this oil can work wonders. Improving scalp health to nurture your hair, it is a great choice for everyone.

Yes, Earthraga takes pride in its 100% natural and organic Bhringraj Hair Oil. Being a safe and wholesome bhringraj oil for grey hair, our bhringraj oil price is also affordable. It's dermatologically tested and cruelty-free.