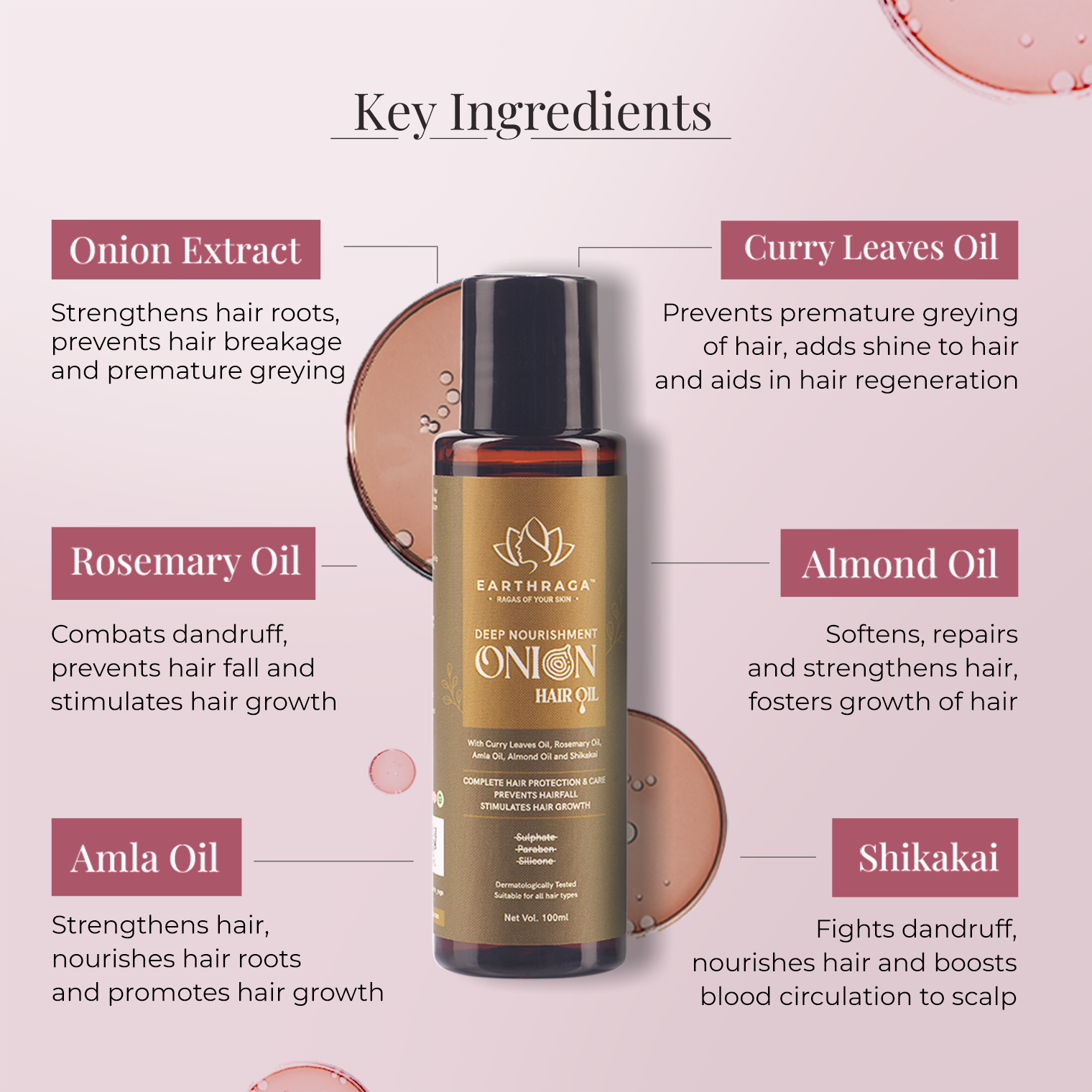 Deep Nourishment Onion Hair Oil | Strengthens Hair Roots & Prevents Hair Fall | Antimicrobial | Adds Shine To Hair | 100ml
Description
Earthraga Deep Nourishment Onion Hair Oil is designed to prevent hair fall and stimulate hair growth. Packed with sulphur, this nourishing oil effectively minimizes hair breakage and thinning. Consistent application reveals a visible boost in hair volume over time.
Product Details
Discover the power of our key ingredients:
Onion Extract: Abundant in sulphur, this extract effectively strengthens hair roots, prevents hair breakage, and promotes the mending of split ends. Regular use also helps slow down the greying of hairs.
Curry Leaves Oil Rich in proteins and beta-carotene, this component boasts antimicrobial properties. It not only enhances hair shine but also aids in the regeneration of fallen hair, improves scalp health, and prevents premature greying of hair.
Rosemary Oil: – Known for promoting blood circulation in the scalp, Rosemary Oil combats dandruff, prevents itchy skin, and stimulates hair growth. Its essential role lies in arresting hair fall.
Almond Oil: –Almond oil provides hair with softening, repairing, and strengthening properties. It fosters hair growth by acting as an emollient, effectively filling in gaps at the cellular level and fortifying each hair strand.
Amla Oil: –An active ingredient in hair oils since Vedic ages, Amla is renowned for strengthening the hair shaft and promoting hair growth. It imparts nourishment to each hair strand and root, making it a preferred remedy for various hair-related issues like Alopecia and Male Pattern Baldness. .
Shikakai: –Famed for its dandruff-fighting abilities, Shikakai is a rich source of multivitamins that provide nourishment to every hair strand. It also aids in improving blood circulation and boosting collagen in the scalp.
Manufacturer details- A.G. Organica Pvt Ltd, C-11 Block C, Sector 85, Noida Uttar Pradesh 201305 Licence No. UP16320000028
Directions for use:
Take a sufficient amount of onion hair oil and apply it evenly to your hair and scalp.
Gently massage the oil into your scalp using your fingertips. This helps in improving blood circulation and ensures that the oil is evenly distributed.
For maximum benefits, it is recommended to apply the oil at night before going to sleep. Leaving the oil overnight allows it to deeply nourish your hair and scalp.
Wrap your hair in a soft towel or use a hair cap to prevent the oil from staining your pillowcase.
Individual results may vary, and it's essential to be consistent with the application to experience the full benefits of the hair oil. Additionally, perform a patch test before using the product to check for any allergic reactions or sensitivities.
Feeling Rich, Pyaaz Ka Tel jo use kar raha hun
Used hair oil after ages, must confess feeling energetic and invigorated. Kamal ki baat to yeh ki Pyaaz ka tel, bachpan main Sarson aur Amla ki tel maalish Maa karti thi sar par. Purani yaad taaza ho gayi. Worth every penny...
Yes, onion hair oil can be beneficial for your hair due to its potent sulphur content that helps hair growth and strength. Sulphur is known to boost collagen production resulting in healthier and stronger hair. Onion oil for hair growth also helps in blood circulation to the hair follicles promoting better nutrients for hair growth.
Yes, you can leave our onion hair oil overnight for deep nourishment of hair and scalp. After oiling your hair use a towel or cap and leave the onion oil overnight. Next day wash it off with a mild shampoo.
To reap the full rewards of the hair oil, consistency in use is crucial because individual outcomes may vary.

You can apply this organic onion hair oil 1-2 times a week.
Get the best onion hair oil on Earthraga. Our organic onion hair oil is 100% natural and pure. Earthraga's onion oil is clinically effective, cruelty-free, and dermatologically tested. This natural onion hair oil is made from a blend of onion extracts, rosemary oil, amla oil, curry leaves oil, almond oil, and shikakai.