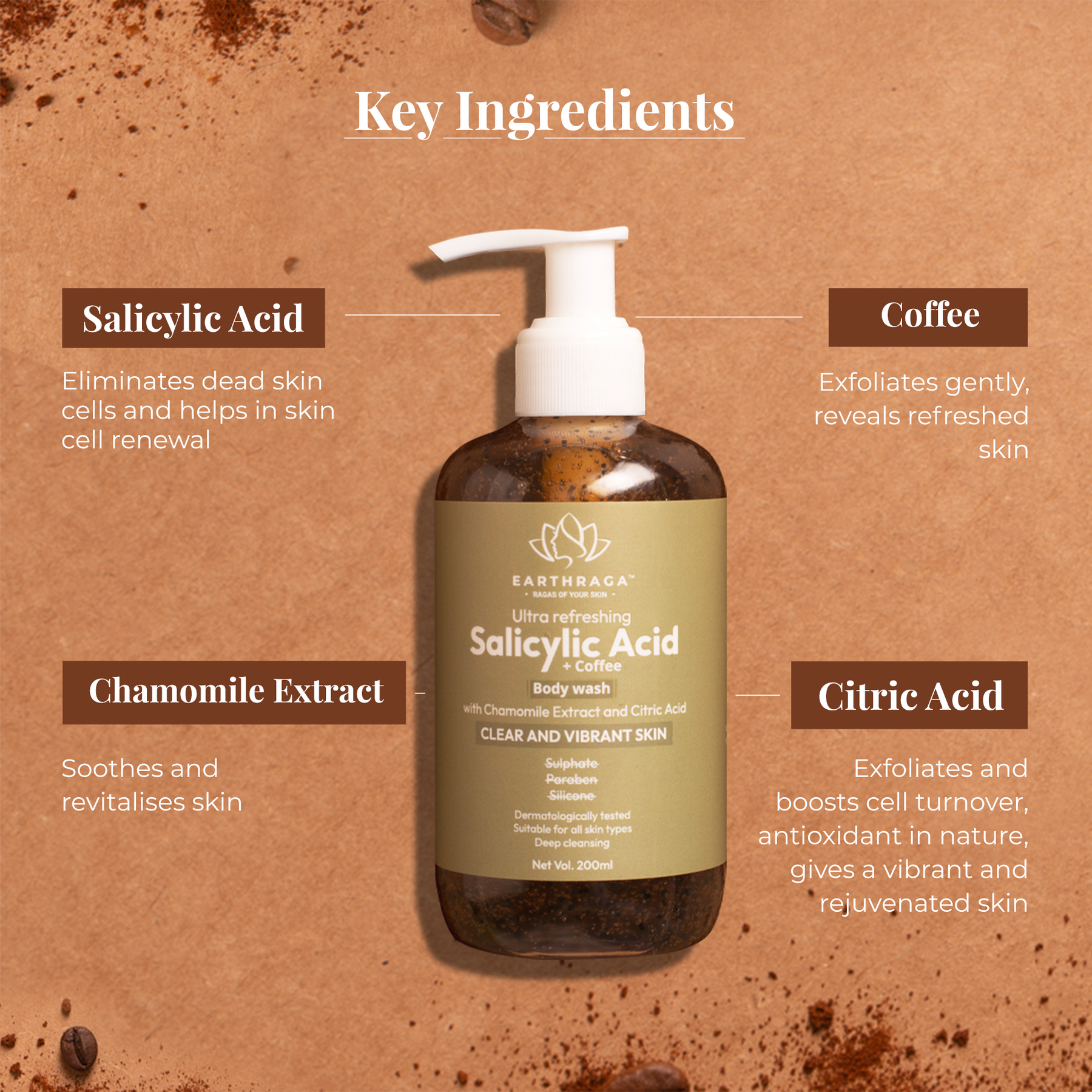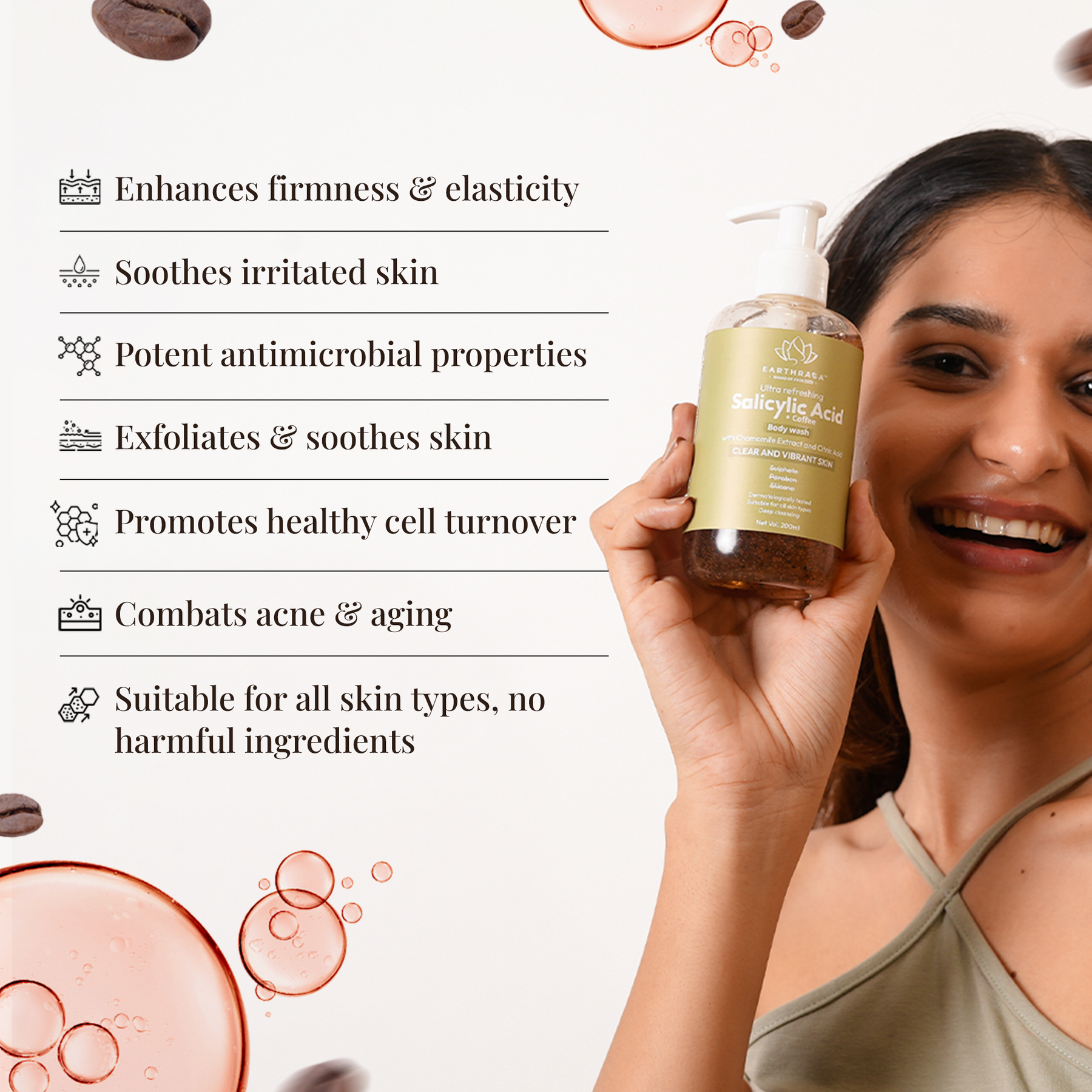 Ultra Refreshing Salicylic Acid + Coffee Body Wash for Exfoliating Skin | Exfoliates & Removes Dead Skin Cells Antimicrobial | 200ml
Description
Experience the nourishing benefits of our Ultra Refreshing Salicylic acid + Coffee body wash, a gentle yet effective exfoliator. With each use, it thoroughly cleanses the body, leaving behind a lasting feeling of freshness after every bath. Its natural ingredients provide a soothing experience while ensuring the preservation of your body's delicate skin. Use this product with complete confidence and without any concerns, knowing that it cares for your skin with utmost care.
Product Details
Key Ingredients
Salicylic Acid – This potent component accelerates skin cell renewal and effectively eliminates dead skin cells, promoting a smoother complexion.
Coffee: – Serving as an excellent exfoliator and scrub, coffee gently removes loose and dead skin cells, revealing a refreshed and invigorated skin surface.
Chamomile Extract: – With its antimicrobial and soothing properties, chamomile extract helps soothe the skin and provides a calming effect, leaving you feeling revitalized.
Citric Acid: - This ingredient facilitates exfoliation, aids in skin cell turnover, and acts as an antioxidant, helping to combat the effects of environmental stressors, leaving your skin looking vibrant and rejuvenated.
Manufacturer details- A.G. Organica Pvt Ltd, C-11 Block C, Sector 85, Noida Uttar Pradesh 201305 Licence No. UP16320000028
How to Use
Take the desired amount of body wash on a loofah.
Apply the body wash over your wet body.
Gently massage the product onto your skin to work up a rich lather.
Rinse off thoroughly with water, ensuring all the lather is washed away.
After rinsing, pat your body dry with a clean towel.
Coffee Salvation
Nothing better than a Coffee bath, for a Coffee lover like me. This is better than Starbucks for me...., try it and you will agree with me
Yes, coffee body wash is good for the skin. It helps to loosen and wash off damaged skin, betters the firmness and elasticity of the skin, exfoliates it, gives it soothing relief, encourages healthy skin cell turnover, and helps heal acne and pimples.

Yes, you can use body wash coffee on your face as well. The presence of natural ingredients like salicylic acid, chamomile extracts, coffee and citric acid eliminates dead skin cells, and aids in skin cell turnover, leaving your skin looking vibrant and rejuvenated.

Yes, using salicylic acid body wash is safe on the skin. Salicylic acid for the body is a powerful ingredient that helps remove dead skin cells and speeds up skin cell regeneration, making the complexion smoother.

Yes, using coffee body wash helps in treating acne. The presence of coffee extracts in the body wash gently exfoliates the skin while removing dead skin cells that lead to acne.

Yes, Earthraga salicylic acid body wash is completely free of harmful chemicals like sulphates, parabens, and silicones.