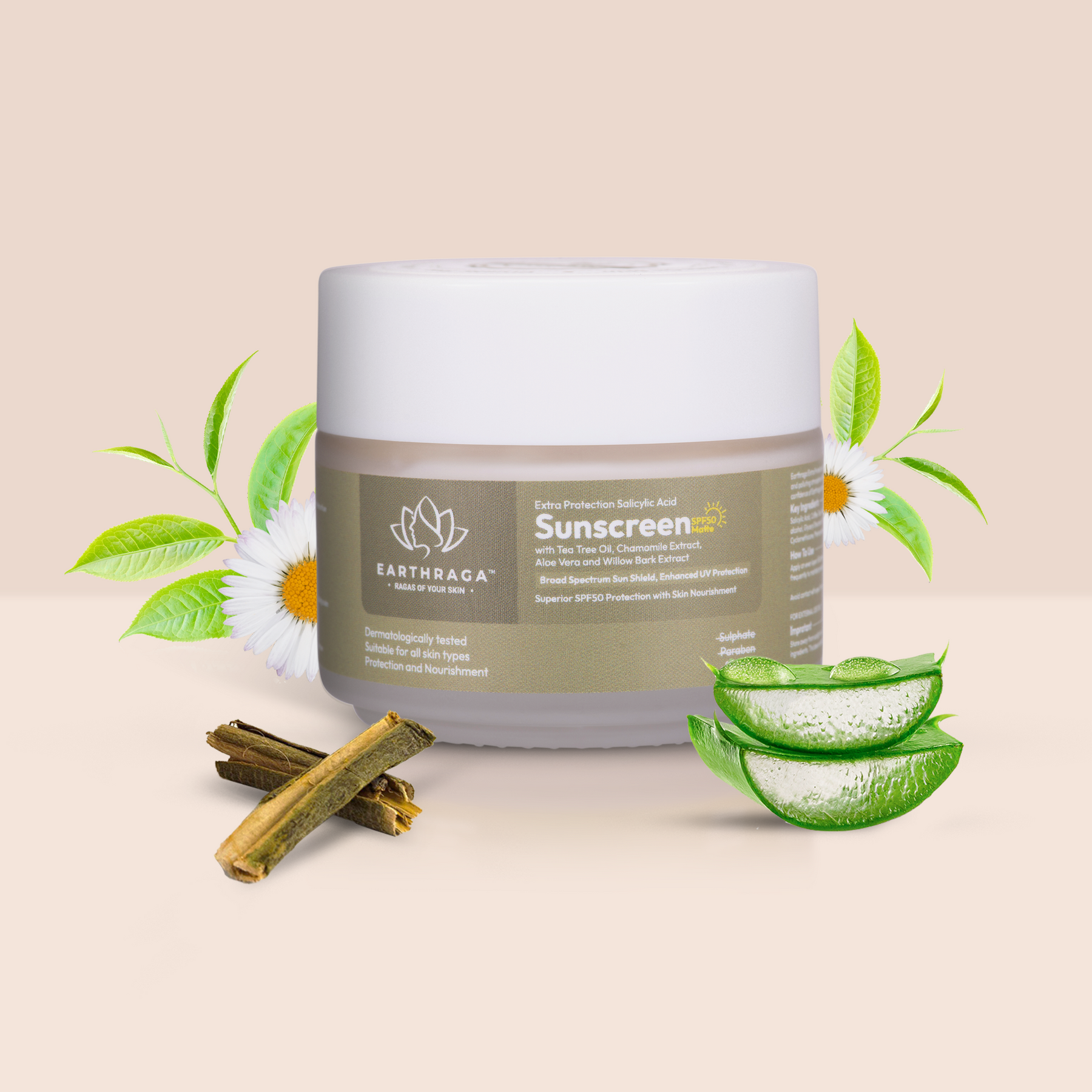 Extra Protection Salicylic Acid Matte Sunscreen SPF 50 | Shields Skin From UV Rays | Fades Dark Spots | Prevents Tanning & Sunburn | 100gm
Description
Experience the superior defense of Extra Protection Salicylic Acid Sunscreen SPF 50 Matte, providing an enhanced barrier against the harsh sun and pollution. Beyond its protective qualities, it also nourishes the underlying skin, boasting a blend of natural ingredients that readily penetrate the deeper layers for comprehensive sunburn and tanning protection.
Product Details
Key Ingredients
Salicylic Acid – Guards against skin tan and sunburn while diminishing acne and dark spots.
Tea Tree Oil: – Combats sun damage and possesses anti-inflammatory properties.
Aloe Vera: – Locks in skin moisture and provides soothing relief.
Willow Bark Extract: - Calms skin redness, reduces oiliness, and helps slow signs of aging.
Manufacturer details- A.G. Organica Pvt Ltd, C-11 Block C, Sector 85, Noida Uttar Pradesh 201305 Licence No. UP16320000028
How to Use
Apply a generous and even amount of the sunscreen to your face and body, ensuring thorough coverage.
Make sure to do this 15-30 minutes before stepping out into the sun to allow the product to absorb properly.
For continued protection, re-apply the sunscreen regularly, especially after activities like swimming, sweating, wiping your face or body, or during extended periods of sun exposure.
Excellent Results
Most sun screens give decent tan protection, but it made my skin supple smooth and younger looking, Just Amazing...
Non Greasy, Excellent Tan Protection
So happy with it, hubby compliments my face glow. Excellent sun tan protection. Shared my experience in my Kitty group too...
Yes, salicylic acid is a natural anti-inflammatory agent which soothes the skin and protects against UV rays.

You can surely use salicylic acid in sunscreen every day without any problems.
Salicylic acid not only prevents skin damage from UV rays, but also soothes redness, unclogs pores and reduces oiliness and dead skin cells.

Salicylic acid has lightening and brightening properties which help in reducing tan and sun damage.

You should always use salicylic acid sunscreen before makeup.