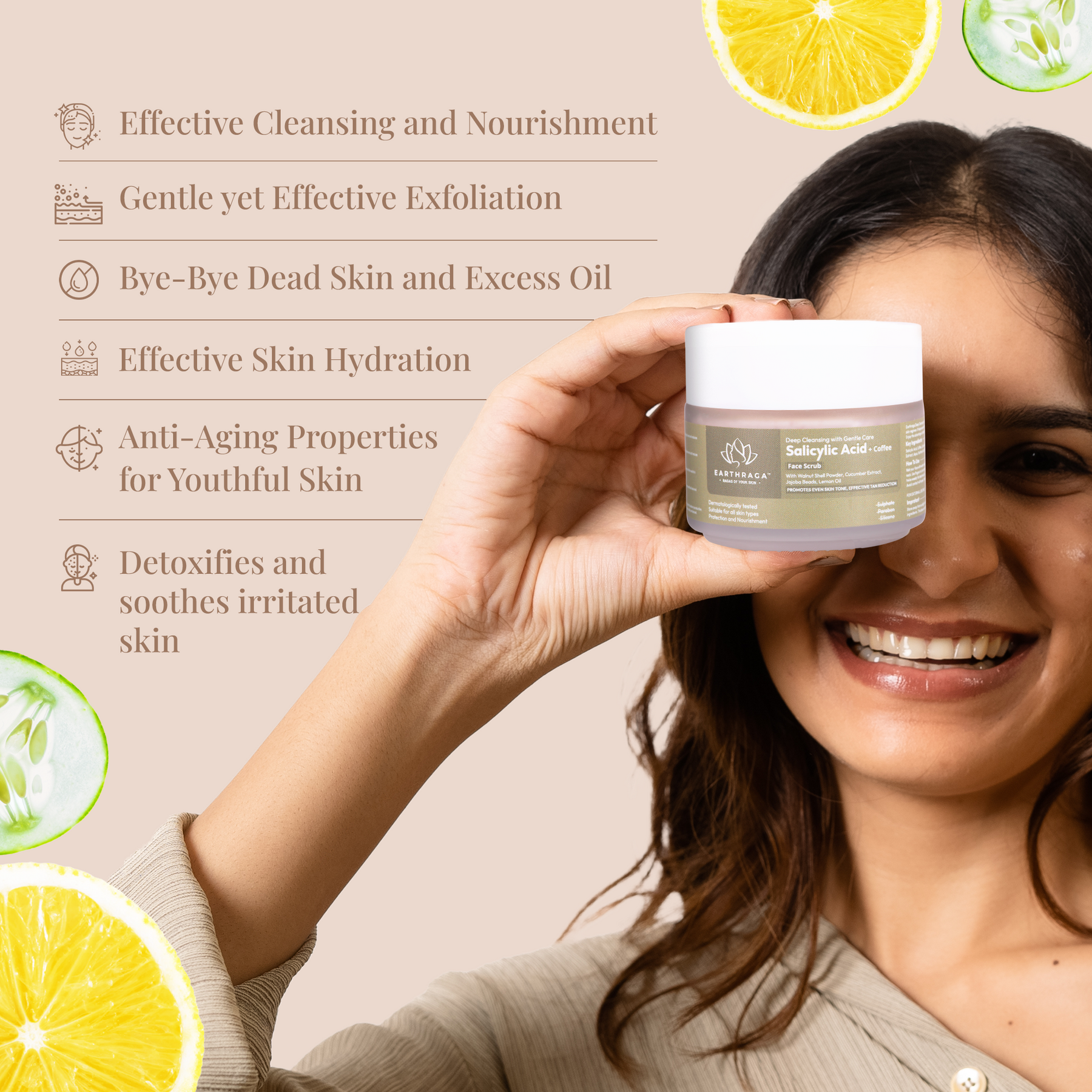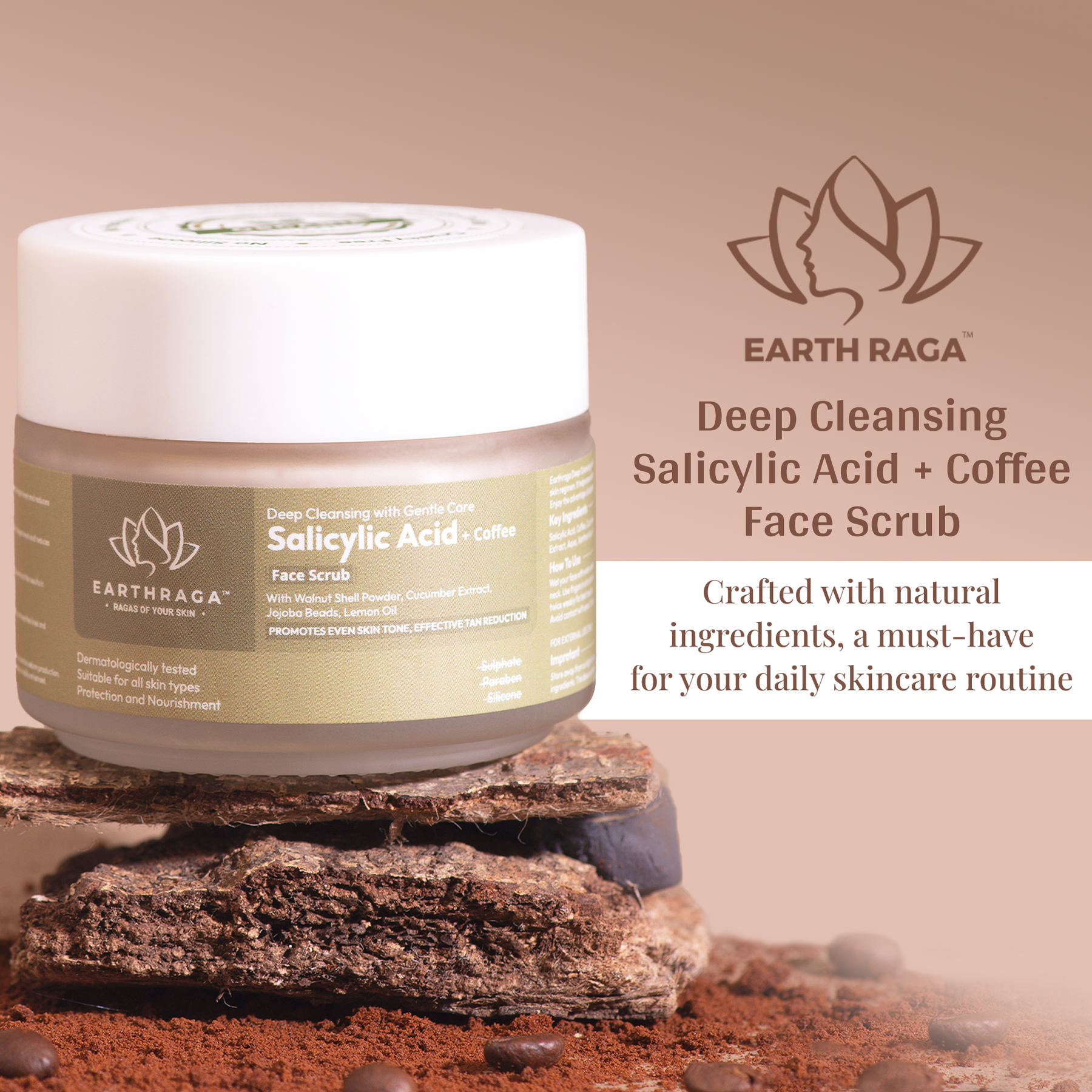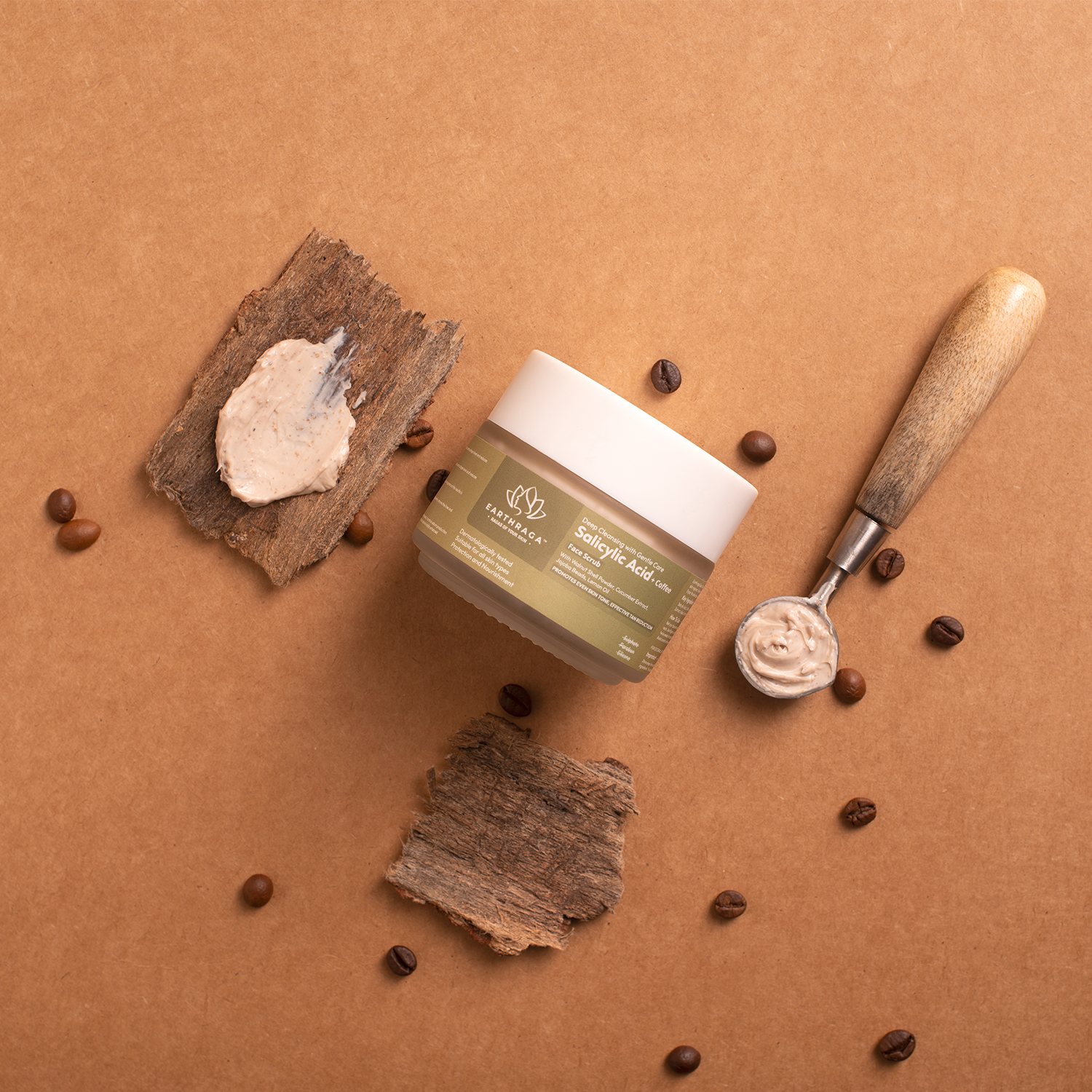 Deep Cleansing with Gentle Care Salicylic Acid + Coffee Face Scrub | Exfoliates Skin | Controls Acne & Pimples | 100ml
Description
Introducing the Earthraga Deep Cleansing with Gentle Care Salicylic Acid + Coffee Face Scrub, an essential addition to your skincare regimen. This efficient scrub delicately purifies your face, setting it apart from other products that may irritate the skin. Crafted with natural ingredients, this face scrub ensures no harm to your skin, making it a must-have for your daily routine.
Product Details
Discover the power of our key ingredients:
Salicylic Acid: – A mild exfoliant that aids in controlling acne and pimples.
Coffee: – With its exfoliating and scrubbing properties, it effectively clears impurities and dirt from the skin
Cocoa Butter: - Rich in fatty acids, it hydrates and nourishes the skin while improving elasticity.
Walnut Scrub: - Gently removes dead skin cells, blackheads, and impurities.
Cucumber Extract: - Soothes and hydrates the skin, ensuring a gentle scrubbing experience without harming the skin's texture.
Jojoba Beads: - Gently A natural moisturizer that readily absorbs into the skin, working effectively against acne
Manufacturer details- A.G. Organica Pvt Ltd, C-11 Block C, Sector 85, Noida Uttar Pradesh 201305 Licence No. UP16320000028
Directions for use:
Wet your face and neck with water.
Take a generous amount of face scrub and apply it evenly on your face and neck.
Gently massage the scrub onto your skin using your fingertips in a circular motion. Be gentle and avoid applying too much pressure.
Allow the face scrub to sit on your skin for 2 minutes. This gives the ingredients time to work their magic.
After 2 minutes, rinse off the scrub thoroughly with cold water.
Pat your face and neck dry with a clean towel.
For optimal results, incorporate this face scrub into your skincare routine at least twice a week. Enjoy the benefits of smoother, healthier-looking skin with regular use.
Enjoy the benefits of this unique blend, which not only exfoliates but also addresses acne, clogged pores, and dryness, leaving your skin feeling rejuvenated and revitalized
Good for Oily Skin
Because of my oily skin and break-outs/ pimples, I avoid face scrubs, used it on a friend's recommendation. Good decision .... Skin is so soft & smooth, nice fragrance too. They should have a larger value for money pack, 100ml is just too small.
To get the skin benefits from our coffee face scrub, first, wet your face and neck with water. Then take a good amount of the salicylic acid face scrub on your fingers and apply it evenly all over your face and neck. Follow this with a gentle massage of the scrub into your skin. Ensure to massage with gentle circular motions using fingertips and avoid exerting any excess pressure on the skin.
Get smoother, youthful, and healthier-looking skin with regular use of the coffee face scrub.

Yes, our coffee face scrub with the properties of walnut scrub helps to gently remove dead skin cells, other skin impurities, and blackheads. Revealing glowing, youthful skin.

We recommend incorporating our salicylic acid face scrub whitening into your daily skincare routine by applying it twice a week.

The powerful properties of coffee in the coffee scrub for tan removal exfoliate the skin gently and remove impurities and dirt from the skin making it youthful, hydrated, and nourished.