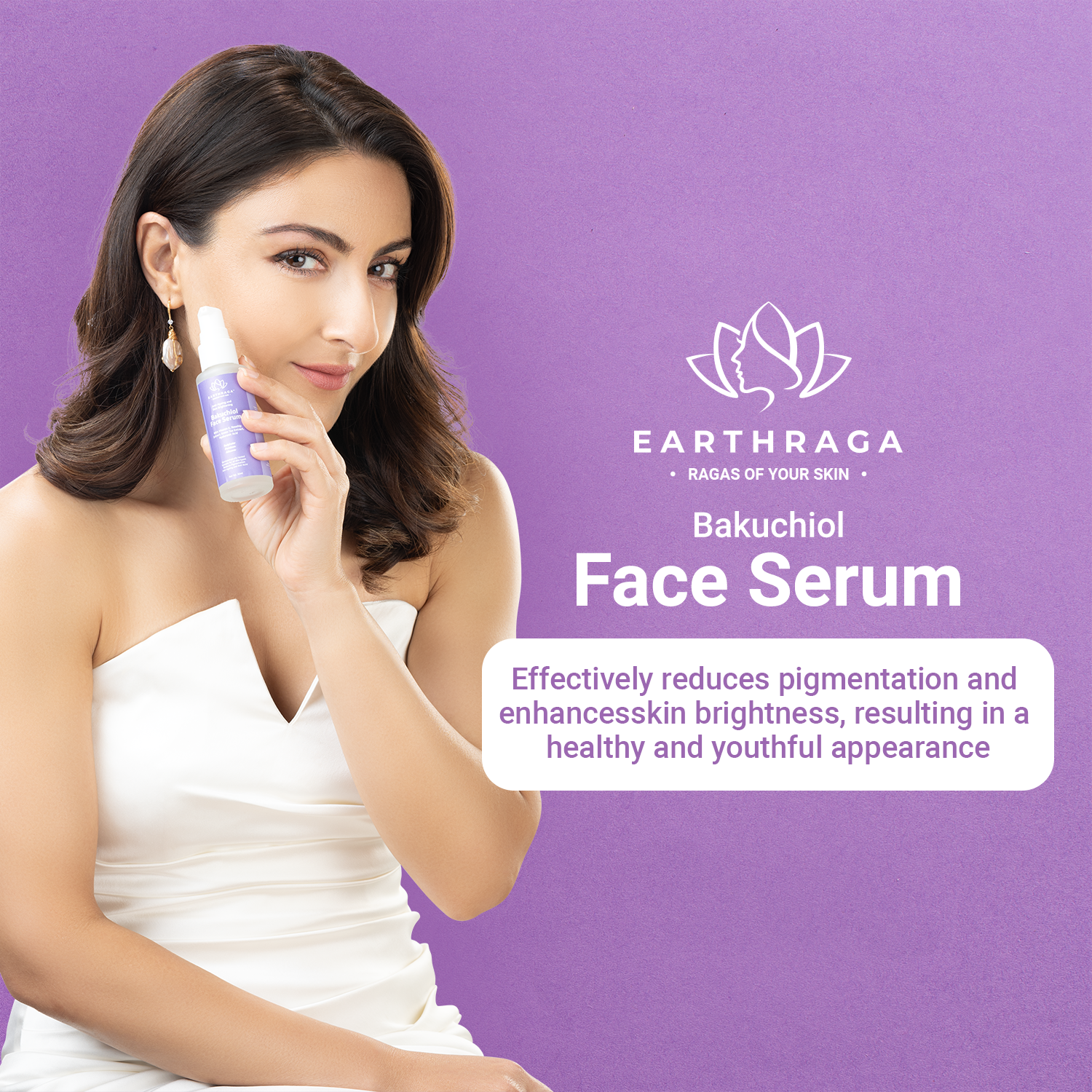 Bakuchiol Face Serum | Treats Fine Lines & Wrinkles | Repairs Skin | Minimizes Pores | Reduces Pigmentation | 30ml
Description
If you desire to take charge of and counteract skin ageing, the Earthraga Anti-Ageing and Skin Brightening Bakuchiol Face Serum is an essential addition to your skincare regimen. This remarkable serum not only delivers powerful anti-ageing effects but also effectively reduces pigmentation and enhances skin brightness, resulting in a healthy and youthful appearance.
Product Details
Manufacturer details- A.G. Organica Pvt Ltd, C-11 Block C, Sector 85, Noida Uttar Pradesh 201305 Licence No. UP16320000028
My skin loving it
Just loving the serum. Unlike other harsh serums in market, this is a better serum which does not irritate your skin. Moreover, the effect of this serum is really wonderful. I can notice the changes on my face in mirror
Yes, the Bakuchiol serum is good for the skin. It helps in treating fine lines and wrinkles, reduces pigmentation, minimizes pores and helps enhance skin brightness. It is your go-to skincare product if you are looking to achieve a healthy and youthful appearance.
Yes, you can leave Bakuchiol face serum overnight on your face. You can use Bakuchiol night serum in the evening/night for the best results.
You can use Bakuchiol face serum effectively as follows:
Use your fingertips to apply the serum.
Use it evenly on the face and neck.
Massage gently in an upward circular motion for better absorption.
Apply it during the evening/night for the best results.

Yes, using Bakuchiol oil serum brightens & evens skin tone. The presence of Rosehip extracts in the Bakuchiol serum helps in brightening the skin while enhancing skin elasticity and green tea extracts help restore and even skin tone.
Bakuchiol serum from Earthraga is infused with the goodness of Bakuchiol, Vitamin E, Rosehip Extract, Green Tea, and Hyaluronic Acid all of which together help in fighting fine lines, pigmentation and other signs of ageing, thus giving you firm and even-toned skin.