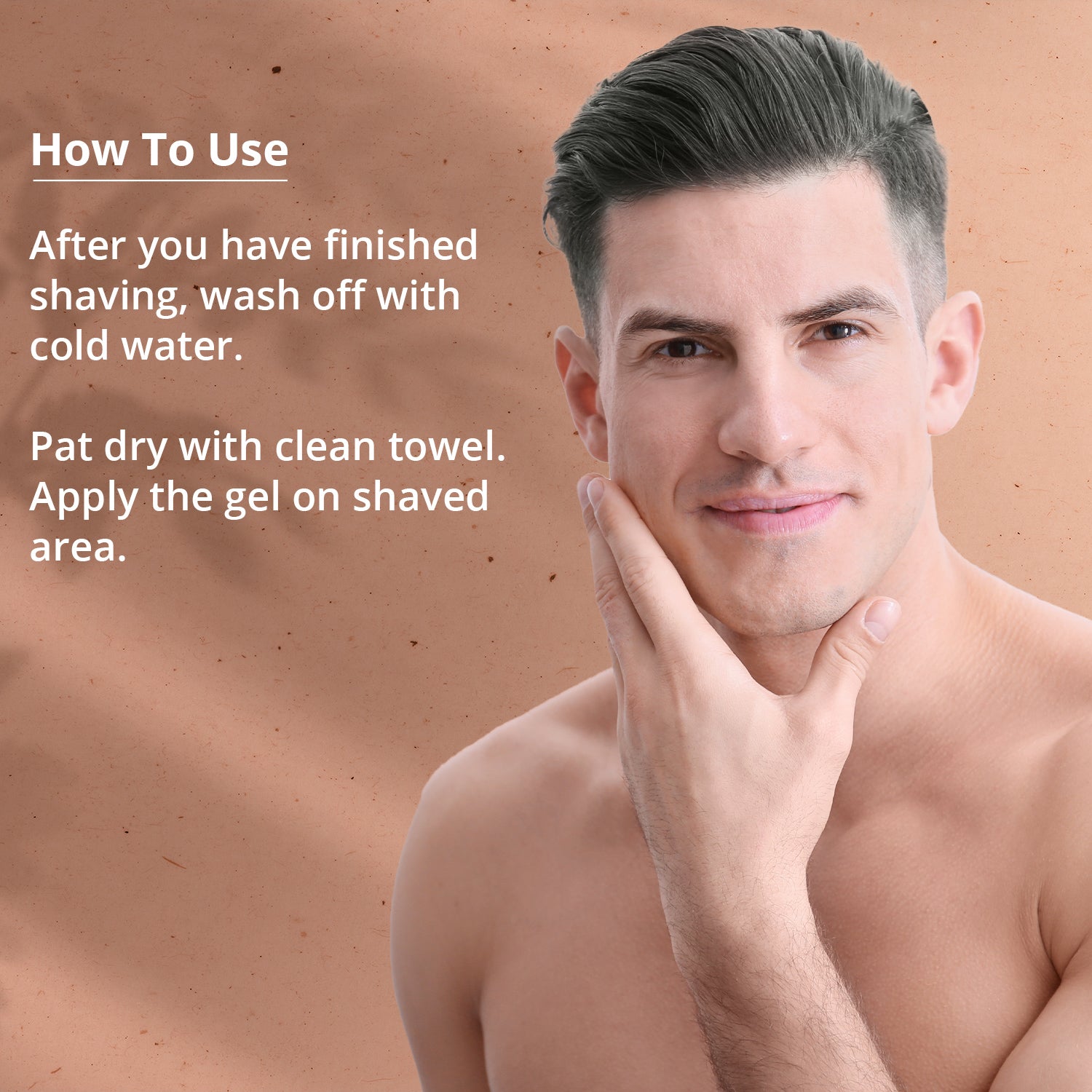 Mint Glacier Aftershave Gel | Reduces Irritation & Itching After Shaving | Provides Cooling Effect On Skin | Antiseptic | 100ml
Description
Earthraga Mint Glacier Aftershave Gel is a light and refreshing aftershave gel formulated to soothe skin and assist with skin repair after daily shaving. Infused with natural ingredients, this calming aftershave gel soothes razor burn and replenishes moisture. Plant-based ingredients exert their antiseptic effect and make skin comfortable by removing the feeling of tightness.
Intense hydration

Non stinging

Natural fragrance

Gel-based formula

No alcohol or toxins

100% organic
Product Details
Key Ingredients
Alum Powder (Fitkari) –Alum is made from natural potash alum that has excellent antiseptic properties. It tightens skin pores and treats shaving nicks to give a great aftershave treatment.
Menthol Crystals – It has cooling effect on your skin, thus, proving to be helpful in reducing razor burns and calming skin irritation and itching caused due to shaving. Menthol crystals are also effective in reducing whiteheads and blackheads.
Aloe Vera– This ingredient is well known for its innumerable skin benefits. Aloe Vera not only soothes and hydrates skin but also helps in reduces blemishes and fighting other signs of skin ageing.
Manufacturer details- A.G. Organica Pvt Ltd, C-11 Block C, Sector 85, Noida Uttar Pradesh 201305 Licence No. UP16320000028
Directions for Use:
After shaving, take a coin-sized amount of the product in your hand. Spread between your palms and apply evenly to your face.
Is it good to use cooling aftershave?

The excellent antiseptic properties of Alum and cooling effects of Menthol Crystals in Earthraga's After Shave Menthol helps in reducing razor burns, whiteheads, blackheads and tightening skin pores, thus giving your skin a complete aftershave treatment.

The soothing and calming properties of the Aloe Vera After Shave Balm from Earthraga help in assisting skin repair after daily shaving. By providing your skin the intense hydration, the non-alcoholic cooling aftershave helps heal the shaving cuts.
Yes, the gel-based formulation of the best menthol aftershave from Earthraga is absolutely free from chemicals and is infused with 100% natural ingredients like Alum Powder, Menthol Crystals and Aloe Vera.